Dr. Becky Elfers and her husband Brian have owned and operated Colfax Veterinary Hospital since she graduated from WSU in 1983. Brian is a pilot and aircraft mechanic at Interstate Aviation in Pullman. The first six years they worked long days. Often the phone rang during the night with emergencies. But then several things happened….. Daniel, their first son was born in 1989. A second son, Jackson, arrived in 1994. Another veterinary clinic became established in Colfax. And in 1999 Becky developed a peripheral nerve disorder, Guillain Barre. This temporarily paralyzed her and convinced them that it was time to slow down and re-evaluate priorities.
The clinic name was changed to Colfax Cat Clinic in 1999. We specialized in cats but still provided basic care for dogs. During these years, Becky became more involved in school and church activities. She discovered a passion for teaching. In 2006 Becky earned a K-12 teaching certificate with an endorsement in Biology and for the next 7 years taught part time at Colfax High School. In June 2013 Dr. Elfers began a full time veterinary/teaching position at Washington State University.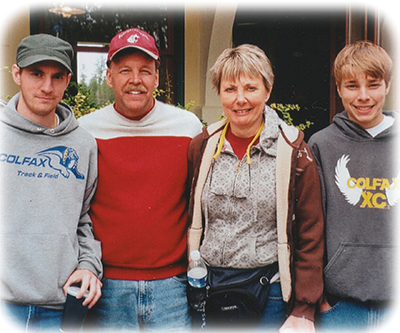 Colfax Cat Clinic is now a part time business with Dr. Elfers as the only employee although she does get help from her family members. Our services are limited to cat spays, neuters and boarding. If your cat needs one of the services that we offer, we guarantee that you will be satisfied with the quality and compassionate care that they receive.