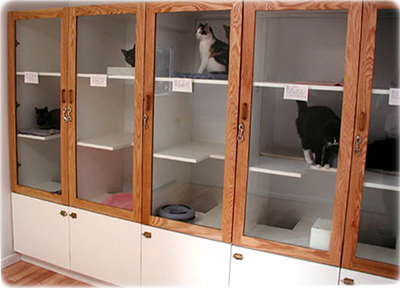 Welcome to our Kitty Hotel. You and your cat will enjoy our custom made cat condos. They have four levels for up and down activity, a private litter-box level and individual ventilation systems to prevent spread of odor and germs. The following information is provided to make your cat's stay the best it can be.
Reservations: Please email or call in advance, especially over the holidays when our spaces fill early. We will reserve a kennel for you. If you change your plans, please try to give us 3 days of notice.
Arrival and Discharge: Our key system allows you to come and go 24 hours/ 7 days a week. The first time you board we will make an appointment to meet at the clinic and get you a hotel key to the boarding area.
Yearly Physical Exam & Vaccination: Your cat must be current on his/her annual veterinary exam, Feline Upper Respiratory/Distemper Combo (RCP) and Rabies vaccinations to board with us. Please bring records if your cat received these at a different clinic. We can update your cat's annual exam and vaccines during boarding but your cat's protection is better if vaccines are given at least 2 weeks prior.
Food: If your cat is on a special diet be sure to bring it with you. We feed Kirkland Adult Maintenance Chicken and Rice dry and a teaspoon of canned twice daily. Many cats get upset tummy from the stress and change in food. If you bring a small ziplock bag of your normal dry food from home, I will feed a mixture with the Kirkland dry for three days and then fill your ziplock with Kirkland dry so you can do the same thing for three days when you take your cat home.
Bring: If your cat has a favorite blanket or a small bed, bring that along. They enjoy something familiar, even a towel or T shirt (that smells like home). Bring any toys or treats that they enjoy. We provide all the dishes and litter box and litter. Your cat carrier may be stored above the condo or if it is too big, leave it on the floor near the base.
Emergency information: Please leave an emergency contact phone number in case your cat becomes ill while you are away. This is rarely needed but it is better to be prepared.